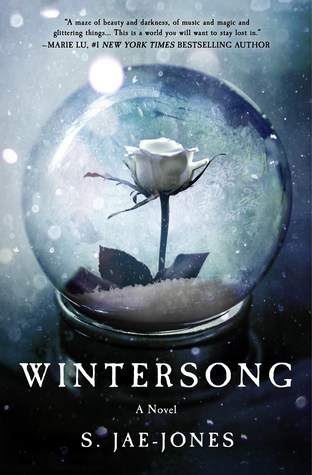 Wintersong by S. Jae-Jones
Publisher: TITAN BOOKS
Publication date: February 7, 2017
Genre: Fantasy
Category: NA
Blurb:
Beware the goblin men and the wares they sell.
All her life, nineteen-year-old Liesl has heard tales of the beautiful, mysterious Goblin King. He is the Lord of Mischief, the Ruler Underground, and the muse around which her music is composed. Yet, as Liesl helps shoulder the burden of running her family's inn, her dreams of composition and childish fancies about the Goblin King must be set aside in favor of more practical concerns.

But when her sister Käthe is taken by the goblins, Liesl journeys to their realm to rescue her sister and return her to the world above. The Goblin King agrees to let Käthe go—for a price. The life of a maiden must be given to the land, in accordance with the old laws. A life for a life, he says. Without sacrifice, nothing good can grow. Without death, there can be no rebirth. In exchange for her sister's freedom, Liesl offers her hand in marriage to the Goblin King. He accepts.

Down in the Underground, Liesl discovers that the Goblin King still inspires her—musically, physically, emotionally. Yet even as her talent blossoms, Liesl's life is slowly fading away, the price she paid for becoming the Goblin King's bride. As the two of them grow closer, they must learn just what it is they are each willing to sacrifice: her life, her music, or the end of the world.
Liesl is a musician—no a composer, she can create beautiful music but chooses to give it to her talented brother to interpret on a violin. She doesn't have the confidence to play; even though she is an artist, she believes the world is not ready for her music. When her younger sister, Käthe, is taken by the king of the Underworld, Liesl must sacrifice her music, and her life, to save her sister. Der Erlkönig – the Goblin King – is no easy match for Liesl, he is "a man with music in his soul. . . capricious, contrary, contradictory".
Liesl is plain in comparison to her beautiful sister but she is much more talented in music and composition. She doesn't get much encouragement from her family, apart from her younger brother who appreciates her compositions. It is only when Liesl is trapped in the underworld that she truly finds herself: "Down here, I have found myself. Down here, I have a space to be. It is a gift I never looked for, and I cherish it".
I had mixed feelings for the Goblin King. There were many sides to him: trickster, austere young man, martyr, musician; and this brought out many sides of Liesl, composer, loving sister, stubborn girl, lover. He was fierce and loving all in one: "'Your soul is beautiful,' he said softly. . . 'And the proof is there. In your music.'" It was this mixed treatment of Liesl that inspired her musical talents.
I feel the ending will either be loved or hated by readers. Personally, I wasn't content with the outcome. Although I understand why the author choose to end the book the way she did, I feel the life Liesl will live won't amount to much, which is disappointing because of her talent. It's difficult to explain my discontent without revealing spoilers, so all I will say is that I would have ended the book differently.
The author is an enchanting writer, from the very first page I delved into the world of the Goblin King. I was lost in the labyrinth of the Underworld and there I wanted to stay. I gave Wintersong four stars because S. Jae-Jones is a gifted writer, who created an original world of magic and music. It did lose a star, however, because the ending was a little disappointing for me. As this is a new adult book I would recommend this read for 17+.