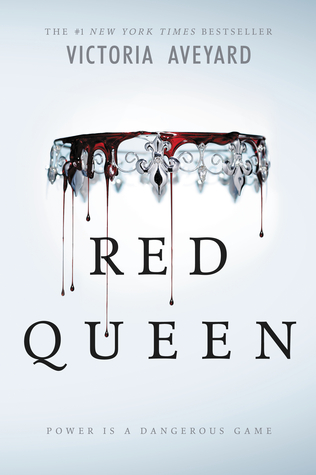 Red Queen by Victoria Aveyard
Publisher: Orion
Publication date: February 10, 2015
Genre: Dystopian, Fantasy
Category: YA
Blurb:
This is a world divided by blood – red or silver.

The Reds are commoners, ruled by a Silver elite in possession of god-like superpowers. And to Mare Barrow, a seventeen-year-old Red girl from the poverty-stricken Stilts, it seems like nothing will ever change.

That is, until she finds herself working in the Silver Palace. Here, surrounded by the people she hates the most, Mare discovers that, despite her red blood, she possesses a deadly power of her own. One that threatens to destroy the balance of power.

Fearful of Mare's potential, the Silvers hide her in plain view, declaring her a long-lost Silver princess, now engaged to a Silver prince. Despite knowing that one misstep would mean her death, Mare works silently to help the Red Guard, a militant resistance group, and bring down the Silver regime.

But this is a world of betrayal and lies, and Mare has entered a dangerous dance – Reds against Silvers, prince against prince, and Mare against her own heart.
"Anyone can betray anyone. . ."
In a world where everyone is divided by blood – silver and red – there's no escaping fate. Either you are Silver, powerful and superior; or you are Red, poor and forced to fight in wars the Silvers caused. When fate seems inevitable and change an impossibility, Mare, a seventeen-year-old finds herself using powers she shouldn't possess. In an attempt to conceal a Red girl with Silver abilities, the king betrothed Mare to his youngest son, Maven. An unfavourable situation, which Mare plans to use to her benefit by joining a rising revolution that plans to take down Silvers.
Told from Mare's viewpoint, it doesn't take long for the plot to unfold, enlightening the reader in the position of Reds and Silvers. Mare is an easy character to suss: stubborn, wilful, thieving and proud, she is an unforgiving heroine who's in search of change. It's only when Mare is trapped in the Silver palace that her true colours begin to shine in white and purple; an abominable Red with Silver abilities.
The one thing that let Red Queen down for me, unfortunately, was the character development or lack thereof. Consequently, I felt disengaged from the characters, which bored my reading experience.  
I liked Mare as the protagonist but she did annoy me at times. I admired her stubborn pride but I disliked her selfishness. She always ended up being the cause of pain for those she cared about: her sister, Kilorn, her parents, her bodyguard, and even Cal. I would have liked Mare to have matured by the end of the book but it seems like she is entirely the same as the beginning: naive.
There are three love interests: Kilorn, the best friend; Cal, the eldest prince; and Maven, Mare's betrothed. Regarding the lack of character development, I felt the story just kept moving from one love interest to another with little impression. We are first introduced to Kilron, a boy Mare would do anything to protect; then we meet Cal, a kind stranger who ends up being the prince of Norta; then Mare is betrothed to Maven, the youngest prince. The cycle seems to keep turning between the three teenagers: Mare falling for Maven then turning her attention to Cal, all the while Kilorn keeps popping up. In the end all love interests seemed to just fizzle out!
Red Queen was written well and the ending is not one you will want to miss – think of Game of Thrones meets The Hunger Games – no one is safe and "anyone can betray anyone". Although, I chose to give this book 3.5 stars because of how disengaged I felt with all of the characters, I do plan on reading the next in the series. I'm optimistic Mare will mature into a powerful character and I'm hoping the love aspect will focus more on one character.