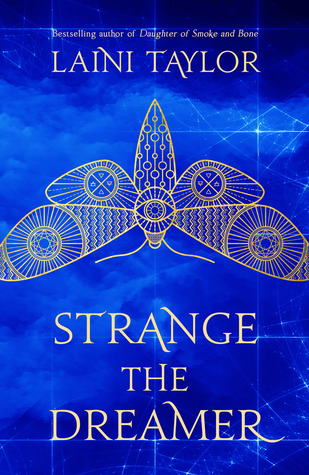 Strange the Dreamer by Laini Taylor
Publisher: Hodder & Stoughton
Publication date: March 28, 2017
Genre: myth, fantasy, romance, adventure
Category: YA
Blurb:
A brand new, heart-stopping novel and the first in a thrilling duology from the much-loved author of the DAUGHTER OF SMOKE AND BONE trilogy, Laini Taylor.

The dream chooses the dreamer, not the other way around – and Lazlo Strange, war orphan and junior librarian, has always feared that his dream chose poorly. Since he was five years old he's been obsessed with the mythic lost city of Weep, but it would take someone bolder than he to cross half the world in search of it.

Then a stunning opportunity presents itself, in the person of a hero called the Godslayer and a band of legendary warriors, and he has to seize his chance to lose his dream forever.

What happened in Weep two hundred years ago to cut it off from the rest of the world? What exactly did the Godslayer slay that went by the name of god? And what is the mysterious problem he now seeks help in solving?

The answers await in Weep, but so do more mysteries – including the blue-skinned goddess who appears in Lazlo's dreams. How did he dream her before he knew she existed? And if all the gods are dead, why does she seem so real?

In this sweeping and breathtaking new novel by National Book Award finalist Laini Taylor, author of the New York Times bestselling Daughter of Smoke & Bone trilogy, the shadow of the past is as real as the ghosts who haunt the citadel of murdered gods. Fall into a mythical world of dread and wonder, moths and nightmares, love and carnage.
'It was impossible of course. But when did that ever stop a dreamer from dreaming'.
Lazlo Strange is an ordinary librarian with big dreams – and the dream chooses the dreamer not the other way around! Lazlo is consumed by the tale of a mythical city, called Weep, and wants nothing more than to find the lost city. So when a man by the name of Godslayer shows up looking for particular people with special qualities, he must prove his worth.
'"Dream up something wild and improbable," she pleads. "Something beautiful and full of monsters."'
Laini's style of writing is compelling; she differentiated the narrative with irresistible characters: especially Lazlo and Sarai. It became evident Lazlo wanted desperately to visit the lost city; whereas, Sarai needed to remain hidden if she was to be kept safe.
Sarai (The Muse of Nightmares) used her God-like ability – to enter a dreamer's mind and haunt them, while remaining unnoticed – to entered Lazlo's mind while he was in a dream state. Through a dream world, Sarai and Lazlo, got to know each other and in the process, develop a friendship that soon turned romantic. Lazlo came to realise that if Sarai was found she would be in danger, and Sarai began to understand that not all humans wanted to kill Godspawn. However, that doesn't settle with Minya, disguised as a six-year-old girl, she's is the oldest surviving Godspawn. She, unfortunately, remembers the day the Godslayer killed everyone in the citadel. Except, that is, for Minya, Sarai, Feral, Ruby and Sparrow. Minya carried as many toddlers as she could and kept them safe from imminent death and now, she believes, they owe her for it. Taunting Sarai, Minya, gave her no option but to kill the faranji (the group of people the Godslayer commissioned to travel to Weep); however, spine-chilling events at the end of the book changed everything.
When I first began reading this book all I knew was: there was a Godslayer, an ancient war, blue Godspawn, and a librarian; so, I didn't know what to expect. Nonetheless, have no fear because Taylor is an incredible writer who created a magical world of gods, myths, librarians, ghosts, tales and monsters. Everything from the poetic imagery, rich world-building and contrasting narrative, to the climatic ending contributed to Strange the Dreamers unique plot.
However (and I say this with hesitation), it did take a lot for the book to get going, which is why I'm giving this book 4.5 stars instead of 5 stars. The descriptions were elaborate and beautiful but very, very long. At times, I just wanted to get to the story and when that happened it was amazing. I would recommend this book for 15+ and definitely the older reader but I wouldn't start reading this one if you're in a reading slump, it won't help.