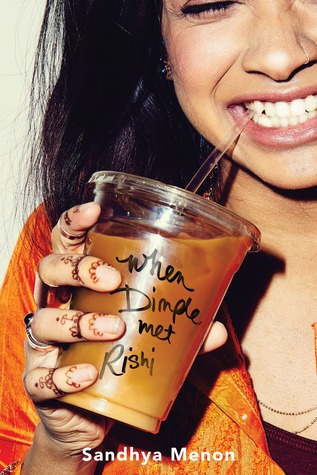 When Dimple Met Rishi by Sandhya Menon
Publisher: Hodder Paperback
Publication date: July 13, 2017
Genre: Romance,
Category: YA
Blurb:
The arranged-marriage YA romcom you didn't know you wanted or needed…
Meet Dimple.
Her main aim in life is to escape her traditional parents, get to university and begin her plan for tech world domination.
Meet Rishi.
He's rich, good-looking and a hopeless romantic. His parents think Dimple is the perfect match for him, but she's got other plans…
Dimple and Rishi may think they have each other figured out. But when opposites clash, love works hard to prove itself in the most unexpected ways.
Perfect for fans of Rainbow Rowell, Jenny Han and Nicola Yoon, WHEN DIMPLE MET RISHI is a frothy, funny contemporary romance set at a coding convention in San Francisco over one exciting summer. Told from the dual perspectives of two Indian American protagonists, Dimple is fighting her family traditions while Rishi couldn't be happier to follow in the footsteps of his parents. Could sparks fly between this odd couple, or is this matchmaking attempt doomed to fail?
Dimple is strong-headed, has been accepted into Stanford and is more than ready for independence and starting a career in coding. Rishi will attend a computer science and engineering program at MIT in the fall. He is handsome, smart and a hopeless romantic. Rishi is completely on board with his parent's (and Dimple's parent's) plan to woo Dimple. However, Dimple has other ideas. . .
Dimple is off to Insomnia Conn, a six-week coding program for those who want to brush up on their skills before starting college in the fall. Dimple is determined to win the competition at the end of the course, so that her idol will help market her idea – an app to help diabetics like her dad. Rishi isn't that pushed about Insomnia Conn, he is more concerned with winning Dimple's heart and sticking to Indian traditions. What is it they say about opposites attracting?
Dimple and Rishi's first encounter with each other is comical: 'hello future wife' was definitely not the best first thing for Rishi to say to Dimple, especially while she's holding a coffee – at least it was iced! If I had to imagine Dimples face before she threw her coffee over Rishi, I think it would look something like this:
I should admit, I have a soft spot for this book because it reminds me of the beginning of my relationship with my boyfriend: I was determined to not have a boyfriend in college; long-distance for study is a part of our relationship; my boyfriend, much like Rishi, overeat on one of our early dates and was (dramatically) unwell; and those eyes (hazel though with specks of amber, not like Rishi's honey) of his melt my heart every time. This whole book made me laugh, smile, and reminisce about first encounters – kismet. I would recommend this book for young readers who are looking for a perfect read to end the summer on. It is easy to read, light-hearted and will make your heart sing.