Autumn is the perfect season for reading. The autumnal colours, the weather, a Starbucks pumpkin-spiced latte and snuggling up to a great book is bliss. Now that summer has – unfortunately – ended its time to tackle that pile of books that has – somehow – grew in size (if you know what I mean). With shorter evenings quickly approaching, I have compiled a list of September/October new releases to keep you busy this autumn.
The Loneliest Girl in the Universe by Lauren James.
Alone in space, Romy Silvers is the loneliest girl in the universe, until she hears of a newly launched ship carrying only one passenger. A boy called J. Can Romy really fall in love through emails with J?
This is not a romance novel, expect a psychological thriller set in space that will keep you turning pages.
September 7
One Dark Throne by Kendare Blake.
Which sister will win?
If you are a fan of Three Dark Crowns then you will already be impatiently awaiting this book. However, if you haven't yet read Three Dark Crowns you need to do so immediately.
September 19
 Fire Blood by Elly Blake.
Fire Blood is the second in the Frost Blood saga. Ruby has defeated the Frost King but the Minax that was trapped inside the ice throne is haunting her kingdom. Ruby must travel to Sudesia and master her fire abilities in a series of trials, as the faith of her kingdom rests in her hands.
September 12
 Warcross by Marie Lu.
Warcross isn't just a game; it's a way of life. Teenage hacker and bounty hunter Emika Chen tracks down players who bet illegally on the game. The games creator, Hideo Tanaka, gives Emika an offer she cannot refuse: spy on this year's International Warcross Championship to uncover a security problem. Soon a sinister plot is uncovered. . .
September 12
 Turtles All the Way Down by John Green.
A novel of love, resilience and friendship this one is for all the John Green fans!
Aza and Daisy are on a mission to uncover the mystery of fugitive billionaire Russell Pickett.
October 10
 That Inevitable Victorian Thing by E. K. Johnson.
A futuristic-Victorian novel about love, duty and moments that can change the world. A world in which the British empire never fell; where disability, skin colour, gender and LGBTQ have equal rights; a thought-provoking world about the small moments that can change people.
October 3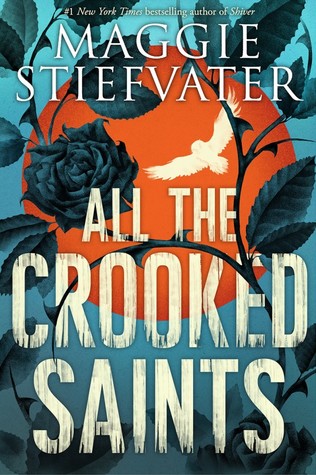 All the Crooked Saints by Maggie Stiefvater.
Here is a thing everyone wants:
a miracle; here is a thing everyone fears:
what it takes to get one.
Enchanting writing and complex characters interwoven into a tale of love, darkness, fear and redemption.
October 10
Happy reading!